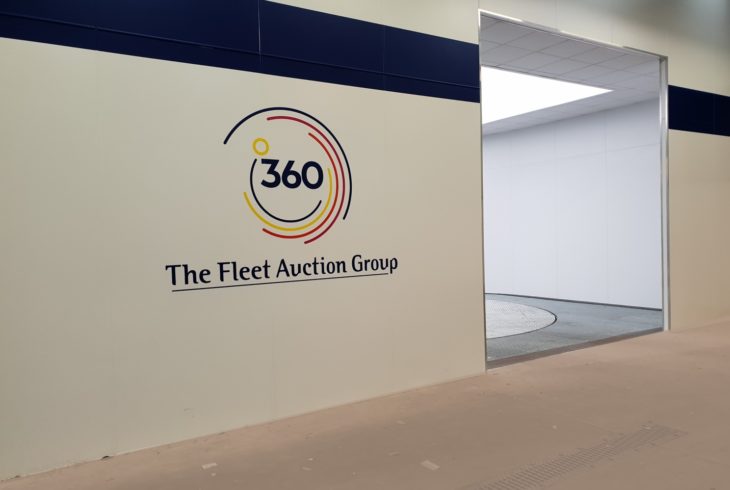 Fleet Auction Group designed their own 10m x 10m booth, based on discussions with UKT360. The spec included an open-tread top to the turntable to keep tyre marks to a minimum. UKT360 supplied the turntable and the dealer360™ automated capture and ongoing image transfer system.
Steve Clarke, Key Account Manager & Auctioneer, was delighted with our "class-leading product".
---
What prompted your initial interest in 360 car photography?
We were looking at ways to improve and standardise our images of vehicles on our website.
How many companies did you look at potentially using?
We initially searched the internet to see what companies were doing vehicle images/turntables. We then looked at live websites to see what best fitted our future vision. It just so happened we had a mutual customer who recommended 360 photography.
What was your buying criteria?
The best product in the market place that had our own vision to bring new ideas to the market.
What clinched the deal for UKT360?
The best product backed by knowledge and flexibility to work with our ideas and systems.
What was your experience of dealing with UKT360?
Very approachable and professional, offering advice throughout.
Are there any tangible changes to your sales rates since introducing 360 car photography?
We believe we have increased online buyer confidence, which has in turn increased online activity and sales performance.
What is your overall opinion on the value of 360 car photography to your business?
360 photography provides us with a flexible system which has enabled us to offer our customers with everything they require for vehicle imaging. UKT360 has worked with us to bespoke their systems to our requirements.
Would you use UKT360 again and/or recommend UKT to others?
Yes, we will be using UKT360 again when we need more booths and would highly recommend their product, systems and knowledgeable staff to deliver a class-leading product.